I was born during the Chicago winter. The cold weather used to run through my veins. When I was younger, I used to love the winter because of the snowball fights and the days off from school. I would play outside for hours. My numb fingers would roll snowballs and launch attacks on my brothers. Little bits of ice would find their way into my snow pants, but none of that bothered me. My body was used to the cold. I didn't even know what the winter blues were.
Twenty-something years later, adulting has ruined the winter experience. Since I have had kids, the winter and I aren't exactly best friends. I find myself feeling trapped and stuck at home with my teething daughter and my active and "Mom, I'm bored" son. The days of freezing wind that slap you in the face have only just begun, and I am already feeling stir crazy.
New York doesn't get as cold as Chicago does, but when you have little kids, everything is harder during the winter. In my mind, the need to go out for an errand seems like running a marathon. On the weekends that it's too cold to go out, my kids grow bored and weary of their toys and the tantrums and whining seem to never end (and I want to cry with them too). Sometimes, I just want to be a kid in my snow fort licking an icicle.
I find myself feeling trapped…
Growing up, my memories of winter were of snow days and building snow forts. We only took off from school if there were blizzards (a couple inches of snow didn't apply) or extremely bone-chilling days, which happened every winter. I remember eagerly getting off of the bus and running home to drop off my backpack. My friends and I would reconverge in our cul-de-sac and start digging through the mounds of snow that accumulated from the night before. We would carve out tunnels and create thrones of ice for ourselves. It became our chill spot everyday after school until it melted.
As a stay-at-home mom, my feelings for winter aren't as positive as they once were. Feeling depressed and less productive during the winter months is common. From what I'm told, many moms feel this way. The winter blues are real, and according to the National Institute of Mental Health, Seasonal Affective Disorder (SAD), is a form of depression that appears during the cold months. It is four times more likely to occur in women than men. The feeling of fatigue and weariness is associated with the lack of vitamin D and inadequate sunlight.
My mood and drive have become affected by the dark and dreary winter season. Sometimes, I feel isolated from the outside world, and I have no motivation to do anything. Cooking and small chores around the house take hours to complete. And it's not like motherhood can be put on hiatus until Spring time comes around. I find myself wanting to stay cuddled on the sofa and watching The Real Housewives of New Jersey more than is probably considered healthy. But there are some days that are better than others. I make sure to take advantage of those days I feel motivated and ready to go. When I'm feeling energized, I get things done in no time; it's as if the winter blues don't even exist.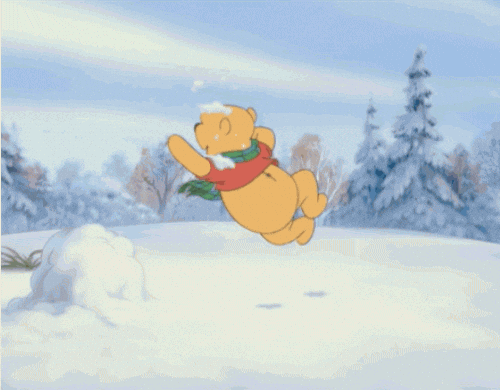 When my kids get older, I know that winter life will become more bearable and enjoyable. When they will be able to handle being outside, they will be able to build snowmen and make snow angels like I did growing up. I look forward to reliving my childhood with them.
Leave a Comment!