All cultures have their "thing." That "thing" they do or say that immediately sells out what part of the world they originate from. Some have more than one "thing." For the purposes of this piece, we're tapping into the "things" that most, if not all, Arab households have in common. 15 "things" – to be specific.
1. A refrigerator or freezer in the garage
The truest of true Arab households have more than one fridge. And they're stocked with enough meat in case the chickens, cows, and sheep ever decide to revolt.
2. At least one giant crystal chandelier
If your house has a high ceiling (or even if it doesn't), you have one of these in the foyer and/or the living room, which neighbors can see from the foyer window three blocks down.
3. Draped curtains that weigh 50 pounds
They were most likely imported from Egypt, Palestine, or Jordan – or custom-made to match your mother's decor if Mama's really got a handle on things. Honestly, she probably doesn't even like them because they didn't turn out exactly how she wanted, but she's too over-it to get new ones.
4. Oriental rugs in every room
Or floral rugs. Or rugs with geometric shapes. Regardless of the pattern she has chosen, your mother insists on not seeing the carpet, tile, or hardwood floor that lies underneath it – in every room of the house. Makes you wonder if that's where she and grandma hide all the family secrets…
5. Glass-handle mugs that are only used for tea
A true Arab mom has at least four sets of varying patterns because some have broken (from tea that was too hot or of course, the evil eye #KasrAShat) and she always has to buy a replacement set – but can't find the same one as the ones she already has – but also doesn't get rid of anything, so she hasn't thrown out the remaining old ones.
6. Bags of pita bread in bulk
You can never have too much bread in your freezer storage because there is never a food occasion that doesn't call for bread to be served with it. Not even maklouba.
7. Fancy living room furniture
Likely purchased roughly 30 years ago and still in it's original plastic covering from when the couple was first married (60s, 70s, or 80s) that no one is allowed to sit on – decades later. The rest of the house is entirely updated, though.
8. A matching fancy dining room
Also, a place where no one actually dines in except in the rarest of special occasions. Occasionally, juicy conversations will take place at this location when the house is full during a large family gathering and people need a "private" place to speak.
9. Unused China dinnerware
Secured in a wooden China cabinet with glass windows, so it always has to be dusted and displayed properly. It also has matching silverware that is – you guessed it – also unused.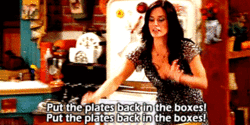 10. Crystal vases that don't match the decor
They were given as gifts without gift receipts, so they couldn't be returned and your mother hasn't learned the art of re-gifting yet so, there they are. They definitely stand out, though, since they're not even close to the color scheme of the room.
11. The designated room for sitting privately with suitors
It's usually just the family room or the living room, but when a suitor is coming over, your family makes sure one of them is empty for that awkward moment that you're ushered in there by the auntie from the community who shows no shame in getting you to agree to this meeting in the first place.
12. A makeshift living room in the garage
Because having at least two sitting areas inside the house and even a back deck or patio is never enough, your family has set up a living space in the garage for those warm months when you want to enjoy the outdoor weather but don't actually care to enjoy other aspects of nature like seeing the grass and the trees that surround your home.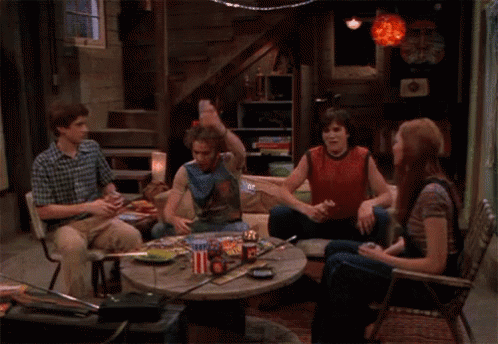 13. Artwork and paraphernalia of the motherland literally everywhere
An Arab household isn't complete without several symbols of the homeland decorated in almost every room. Whether it's a huge frame of Al-Aqsa plastered on the living room wall, Evil Eyes hanging in random corners of the kitchen, or shishas (hookahs) placed near the fireplace, every house is guaranteed to display something very "Arab."
14. IF YOU'RE ARAB-MUSLIM: Remembrances of God/Allah (SWT) and Islam in every room of the house
You're not the Arab-Muslim you claim to be to the community if your house doesn't have an Ayat ul-Kursi in all the bedrooms, the three "Quls" in large frames in the living room no one sits in, the 99 Names of God in every living space, and some other way Allah SWT and Muhammad PBUH have been incorporated into tabletop home decor for your kitchen, dining, and family rooms.
And last, but certainly not least…
15. Large, framed pictures of your grandfather from his glory days
Because no show of love and respect is too blatant or over-the-top for Arabs; your father honors his father by hanging a prominently displayed picture of him in the fancy living room. And since most people my age have a grandfather (or father) who served in some form of the military before coming to the states, it's likely a picture of him in his military uniform, leaving the memory of him as a strong and powerful man with anyone who sees it – no matter how awkward and uncomfortable his interactions are when you have friends over.
Leave a Comment!