I live in Michigan.
As much as I love living in a climate that experiences all four seasons, I could definitely live without winter. Of course snow is pretty to look at, but after about a week of it, I'm over it. However, I can't complain about the snow when those unexpected snow days pop up – they really do break up my work week nicely and even give me a head start to the weekend sometimes #TeacherPerks. I'll also admit that snow is lovely on Christmas Day – I just love a white Christmas.
To say that I'm not a fan of winter would be an understatement. I despise the cold. I hate walking on the frozen sidewalk and accidentally slipping on my derriere (I'm clumsy AF). I detest driving in the slushy snow with a cold steering wheel, but first, having to shovel my big ol' mom van out of the driveway every single morning. It's just a whole ordeal leaving the house in the winter – warming up the car, having to bundle up, and allowing extra time to get to my destination. I absolutely hate how the days are shorter and the fact that it looks like it's the middle of the night before dinner is even on the table. Sunshine is my favorite accessory, so I find myself getting in a funk when the days are filled with grey skies and crappy weather.
This dip in my mood causes me to have a serious case of the winter blues – I end up getting stuck in full-on hibernation mode until springtime. Some people embrace winter. I just happen to be one of those people who has to brace myself for the winter. For 4 straight months, I'm asking myself, "Why do I live in a place where the air hurts my face"? 😱 Ugh, I'm already counting down the days until winter is over, and it doesn't even officially start for another couple of weeks. OK, enough winter-bashing for now.
Since I don't anticipate relocating with my family to Malibu anytime soon, I figured this year I should come up with a proactive approach to beat the winter blues once and for all, especially once the holidays are over and the January melancholy starts to set in. Maybe it's all about having the right attitude, but I really want to do everything within my power to stay on top of my mental health this winter.
So, if you're anything like me and you're looking for ways to keep your spirits lifted this season, here are 10 things we ought to try in order to smash those winter blues:
1. Take up a new indoor hobby
I know it's tempting to curl up on the couch under a warm, fuzzy blanket eating our favorite comfort foods while binge watching Netflix all winter long, but, maybe all it takes is finding a new creative outlet to boost our mood. Winter is the perfect time to start a book club, become a blogger, knit, stock up on DIY projects, learn a new language, or even take a cooking class. Or, if you prefer using your free time helping others, volunteer at the local hospital or at a homeless shelter. (You'll still be inside.)
2. Start your day with a dance party
Music has a huge impact on our emotional state because of the way it reaches deep into our soul. So, put on that upbeat dance music and jam out as soon as you rise in the morning and all the way through your morning commute – it'll guarantee to make you feel chipper, no matter how grim it is outside and how cold your face is walking against the wind.
3. Give your house a mini makeover
There's nothing like a new set of curtains, a fresh coat of paint, or a quick furniture reshuffle to give your pad a fabulous new look. So start pinning some dreamy home decor ideas on Pinterest. But don't just dream it – do it! You're stuck inside anyway you might as well make sure it looks pretty!
4. De-clutter
I don't know about you, but clutter definitely impacts my mood. If you're going to be stuck indoors all winter, why not take the time to actually be productive? Take advantage of all that indoor time and get rid of stuff you no longer use, or purge all those old clothes and toys in your kids' closets. (If they're not playing with it, they won't even miss it.) Sell what you don't need online, or better yet, give to charity – 'tis the season to give to others, right? I know this is not necessarily the most exciting way to spend your free time, but it will take your mind off the fact that summer is still months away, and besides, you will be hero in someone else's mind – and that'll definitely make you feel all warm inside.
5. Embrace your inner child
Who says just because you're not a kid anymore you can't have a moment in the snow? There's no shortage of fun things you can do in the snow – build a snowman, have a snowball fight, create some snow angels, go sledding or ice skating, or even build a giant snow-fort. Just let go and act like a kid again! Talk about making the most out of all that glorious snow. And, if you do have kids, they will love you for it.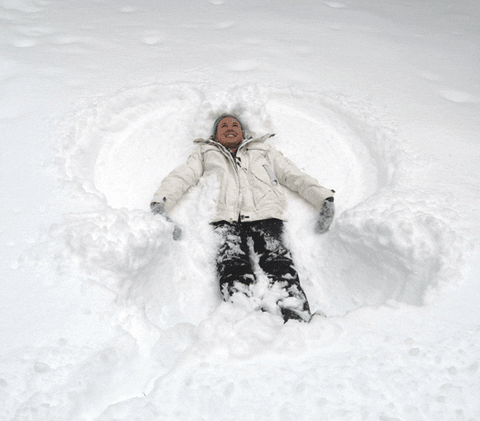 6. Plot your next getaway to a warmer place
Do ever you find yourself daydreaming about sunnier days on the beach? I know I do. Winter just feels endless! But nothing gets your mind off of your troubles like having something to look forward to. Even if your vacation is off in the distance, there's something about simply planning for it that can perk you up. Plus, it'll keep your mind occupied with happy thoughts. So, where is your happy place? Mine is, and always will be, Walt Disney World. This winter, you will find me planning a magical itinerary for our next family trip to the Sunshine State.
7. Treat yo self
It's OK to eat cookie dough straight from the tube or cooking comfort food once in a while. But technically, we're supposed to be curbing those carb cravings in the winter, so maybe just stick with some healthier ways to cheer you up. Stock up on cozy socks, take advantage of all that Amazon Prime has to offer, watch trashy TV or funny YouTube videos of cats all weekend, or pamper yourself with a day at the spa. Whatever makes you happy, do you! And be sure to give yourself plenty of opportunities for laughter, being carefree, and enjoying good company.
8. Get movin'
Obviously, exercising all year round is a no-brainier. But staying physically active in the winter will do wonders in helping you fend off those winter blues. Not only does working out make you feel good, but a nice sweat session will keep you warm when it's freezing outside, and best of all, it'll keep you in shape for summer.
It is very easy to get cabin fever in the winter, but too much indoor time will only exacerbate your negative moods – anything that gets you moving and out of the house will be helpful in combating those winter blues. Studies show that simply getting outside can boost your mood, so brave the cold and get a little vitamin D (AKA: the sunshine vitamin) this winter.
I know heading out into the frigid air is probably the last thing you want to do, but a breath of fresh air will do a world of good for your energy levels! Layer up, lace up those snow boots and take a nice, brisk stroll to the local coffee shop while the sun is still shining. Reward yourself with a hot cup of cocoa or a cup of Joe once you get there. ☕️
9. Take a steaming hot bubble bath to warm up those chilly bones
Not only is a soak in the tub incredibly relaxing and a wonderful treat, but a hot bath is a great mood enhancer. Add a bath bomb, an essential oil diffuser (lavender is my fave), or some tea candles around the tub – you'll definitely be able to find that peace of mind after a long, freezing cold day. If you don't have a bathtub – give your body a nice sugar scrub in the shower. Anything with essential oils to get your senses ticking. Scrub-a-dub-dub those winter blues away.
10. Get some therapy
Having the winter blues is one thing, but Seasonal Affective Depression (SAD) is snow joke. If you find yourself in a really dark and gloomy place (literally), I suggest talking to your doc right away. Because as much as writing this piece was therapeutic for me, I realize that there are limits to self-help – some people may actually benefit from some outside help.
The best way to enjoy, and not hate the winter, is to truly embrace the season – something that I am really going to work on this year. Breaking out of a seasonal slump isn't easy, but hopefully with shaking up our routine and making winter our friend, we can finally get to the point where we can say…
Here's to conquering the winter blues – we got this!
Leave a Comment!