Dedicated to all the beautiful ladies who are new to the world of makeup!
---
Makeup is power. This might sound silly to some people – but it's the truth. Makeup gives us the ability to sculpt our own faces – be they drastic changes or simply enhancing our natural beauty. It's an exciting world to enter albeit, a frightening one if you have no experience. Here are a few things to keep in mind – that are necessary to remember – as you embark onto the journey into the world of makeup application…
1. First things first, always remember YOU are beautiful just the way you are.
NEVER let anyone make you feel or think otherwise! You best believe that! We are all beautiful in our own unique way and makeup is there to assist in helping you enhance your natural beauty and NOT to hide it. Understand it, feel it and be it!!
2. Feel confident in your own skin!
Don't search for confidence in makeup, rather, build up your confidence in yourself, and be secure enough to walk out your door makeup free and loving how you look without it firsthand. This is especially directed at the young girls out there! Exterior beauty should not be the way you want yourself to be defined by others. Know yourself worth, love your self from the inside out, and be confident in who you are. Set the bar for how you want to be received by others and naturally they will follow. Then, looking fabulous to top it off is just the icing on the cake.
3. Keep it simple!
Start out with the basics, girl! Do not overwhelm yourself with the contours and the 3D drama. Nothing better than mascara, lip gloss, blush and a highlighter to help your natural beauty shine through. You can gradually add more fun trends as you get more familiar with the process – or – perhaps you might find yourself content with the basics.
4. Get to know your face!
No one else knows your face better than you do! Choose colors that you know will best compliment your features and complexion. Follow your initial instinct and if it doesn't look right, then it probably shouldn't be on your face.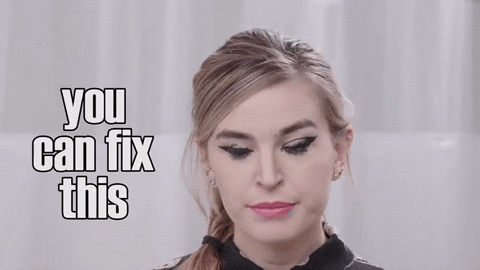 5. Do not slap it on your face just because its the next big thing!!
This pretty much goes hand in hand with tip #4. Makeup trends come and go faster than you can blink, do not fall into the trap of trying out every new look or shade out there just because it's hot on Instagram . Sometimes glitter has no place on your eyelids, and that's OK 😉.
6. Set a budget!
It is very easy to get carried away with buying makeup, and that's why it's best to set a budget for yourself. Start out with basic must have items that you know will be most useful to you for your daily use. And again, as you get more comfortable and familiar with makeup application, you can gradually start adding to your glam collection. As a beginner you really need very few beauty items: a good brow applicator, lengthening mascara, blush that best suits your complexion, 2-3 lippies of your preference and lastly – a good cover-up foundation if you feel you need it. These items, if picked out correctly, can go a long way and last you several months without having the need to go out purchasing anything new.
7. Finally, HAVE FUN!
Do not stress yourself about the details and techniques. You may not have it all applied to perfection, that's OK!! You try again the next day and then the day after that, etc… Repetition and practice are the key, but be relaxed about it. Makeup application should be a stress free experience that can help you feel great about how you look. It should be an enjoyable and relaxing daily glam ritual before you begin to tackle your crazy day. If it's stressing you out – just go au naturel.
Leave a Comment!