I. Love. Food. They say that you should "eat to live, not live to eat," which is true, but that doesn't mean that you shouldn't enjoy the food or experience of eating. Food is an important part of cultures all over the world. Whether it's family dinners, passing along traditional cultural recipes, gatherings with friends, birthday parties, watching a sports event over some wings, lunch meetings, or just quietly escaping the world to simply eat your lunch alone at work; food is a part of every culture.
One of my favorite things to do when I happen to find some spare time is grab dinner with friends. I personally love one-on-one meals but I also love group gatherings at times. The most common roadblock I face when planning outings (even date nights because my lovely fiance leaves all the decision making up to me – it's not as great as you think when you have an equally indecisive brain), and that I've heard from my friends that seems to be common amongst themselves as well, is finding a place to eat. Whether it's fulfilling a craving of a particular genre of food or not knowing what you even want to eat – the hardest part of going out to eat is deciding where you want to do it.
So, to my excitement and relief, someone made a company for that, #winning. I'd like to introduce all of our readers to the latest socializing around food experience to hit the market: Komeeda! Founded by a long-time Facebook friend, Jabber Al-Bihani, Komeeda aims to bring people together over their love for food and adventure. Take a look at the interview I had with him below, our readers are in for a special deal – because we love you, and we know you love food…
Tell me about your background? Where is your family from?
My parents come from Rada'a, Yemen, a lively village with a strong community bond. A place I spent a few months in when I was younger, and it has shaped my perspective on life ever since. The families were relatively wealthy, but my parents decided to pack up and leave for Brooklyn, NY in pursuit of the dream. My father started himself up in grocery stores, then made his way into owning two auto-repair shops. As a kid, I'd accompany my dad to work and learn the ins and outs of his two auto-repair shops. The Queen, my mother, raised six children and empowered us to be the best we can be in anything we do. She is a Superwoman, persistent, strong, emotional, and firm in everything she does, and what she's done for us can't ever be repaid.
Brooklyn-born, Yemeni-American Muslim. That's how I identify myself as a person. My upbringing had a strong influence on me, especially the empowerment my parents consistently fed me; it motivated me throughout my personal growth. I left my conservative and cultural Yemeni household to study civil engineering at Temple University, traveled a bit after graduation, was an engineer for four and a half years, shifted gears and am now growing my company organically and lean, with a dedicated team of skilled contributors.
Brooklyn-born, Yemeni-American Muslim.
To give you a general picture about me, I am super friendly and kind. I like to hug people, and enjoy genuine interaction with new people. I have a big picture, and I have willingly sacrificed a decent career path to paint this picture. I try my best to help whoever I can, whenever I can. I love to collaborate. I love to test ideas. I love to put together food productions. I love those who are supporting me along the ride.
What is your relationship with food/tell me about the importance of food in Yemeni culture.
Breakfast and dinner, we would lay a meal rug on the floor, create an assembly line of plate delivery from kitchen to the meal rug, sit Indian style around the extra-large family style plates and the nine of us (grandpa included) dig in with our hands to eat. As we grew older, those gatherings came around less frequently and we began to appreciate our traditional get-togethers whenever we could. We would reach over each other, playfully eat the small cuts of meat the other prepares for themselves, we would always try and break our personal beefs over meals by asking the other for something near them, and one of us apologizing for our fault. It's a spiritually fulfilling moment in time, breaking bread with your family.
As I grew, I realized the societal importance of food. Dining out with friends, family, colleagues, allowed us to connect better with one another. I would coordinate large group dinners/brunches for all my friends, and family to come together and meet each other and form relationships relevant to their interests. I realized it was a lot easier to get people together, as long as food was involved. It became more and more appealing, and then after my Barcelona experience, it reaffirmed me that it was something worth pursuing.
Tell me a little about Komeeda. What is it and how did it get its name?
I was backpacking through Europe and in a Barcelona hostel one morning, a Spanish guy woke me up yelling "Comida! Comida!", which is "food" in Spanish. It was lunch time, so I got ready to head to lunch. Waiting in the lobby, it was myself and seven other travelers from the hostel. "Comida" guy comes out and takes us for a walk through some side streets, and we land in a corner mom & pop eatery. We all get seated at this communal table, we were given beverages, and the food came out without a menu for review.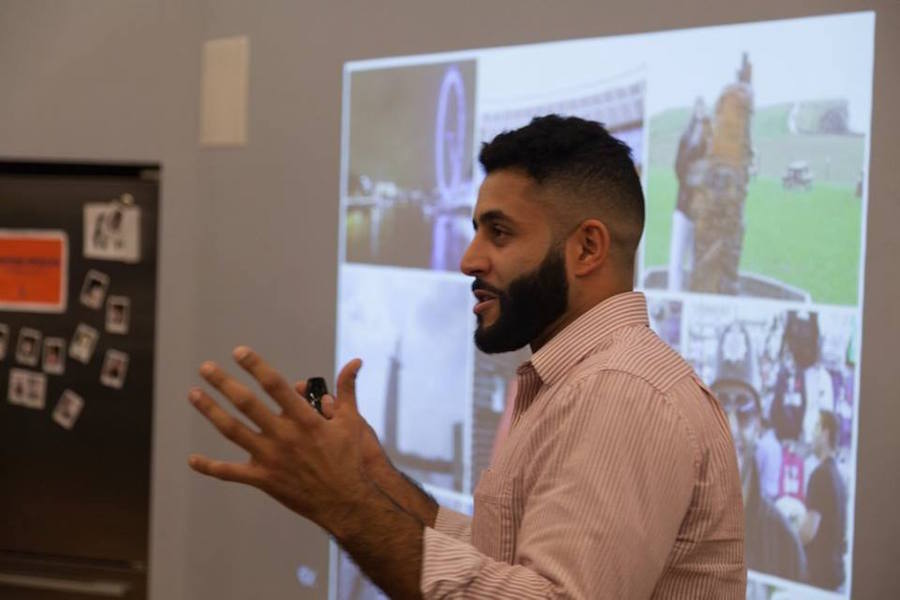 The mom explained the food and the process with the best English she could, and we understood. We sat together, learned about the food, and exchanged stories over some Western-undiscovered delicious food. It was an experience that stuck with me, and I wanted to give experiences like that a platform to thrive, and that is what Komeeda is.
A platform for restaurants and other eateries, to put together and host interactive prix-fixe dining experiences such as the one I experienced in Barcelona. How it would work is that an eatery publishes their experience, the experiences are shared to our "Kommunity" of adventurous eaters who seek flavorful, hospitable and valuable brunches, dinners or tastings. Day of the event, a unique dining experience ensues with a blend of adventurous eaters seeking to learn about a new eatery, find their next favorite dish, experiment with different taste palettes, or simply looking for genuine human to human interaction over the course of a delicious meal.
As for the name, the word itself triggered the entire experience that I wanted to share. So, I did some phonetic play with the word "comida" which also has different uses around food in the Spanish language such as "dinner", "a meal", "dining", and "food". To me, the name is fitting because Komeeda provides all of that in a unique culinary adventure via our Fun Eating Experiences.

How do average New Yorkers get involved in Komeeda events?
I personally have hosted 50 of these events to get an understanding of the dynamic from the restaurant and patron end. Whether you're a local, a transplant, or a tourist to New York City, you'll find value in Komeeda. It's a convenient way to discover new restaurants, taste new dishes, and interact with storytelling chefs and fellow eaters. We work with eateries that are delicious, hospitable, and can hold up their end of the #eatkomeeda experience. Our efforts try to work around local, sustainable, and community-contributing eateries in NYC, and when you attend our experiences, you also support awesome small and sustainable businesses that would love to host you and give you a different experience while dining with them.
What do you hope people take away from events hosted by Komeeda?
Food is a form of social connectivity; we come together to nourish our need to eat. The goal of Komeeda is to empower people to explore and experience new eateries in new places, taste new dishes and cuisines through a plentiful menu, to come out to Komeeda events and interact with others over a meal.
Food is a form of social connectivity…
With these gatherings we enrich our interpersonal experiences, enrich our culinary understanding, and we enrich our communities by supporting great eateries that host these fulfilling experiences. Especially in times like these, it's critical we break bread together and break generalizations of people.
Is there a super cool discount code for our #MMReaders to use when signing up for your events?
Of course! We have some Fun Eating Experiences coming up in 2017 and we want you to be at the Kommunity table! Sign up for Komeeda and get 15% off your first #eatkomeeda experience by using code "MMFoodie".
***
So the next time you and your friends are struggling to find a place to eat out, or if you're trying to plan a special date night – be sure to sign up for some Foodie Fun with the Komeeda crew – we promise, you won't be disappointed!
---
Follow Komeeda's social accounts…
…And keep up with new event and opportunities to explore the cultures of New York City!
Leave a Comment!