My c-section scar throbs with pain whenever someone asks me when I'm having another child. My body rejects the thought of being pregnant again anytime soon. Being sliced open isn't exactly a walk in the park. The pressure of having kids was instant after my wedding. Heck, while I was engaged, people would ask me how long I would wait until I decided to get pregnant after the wedding. Before I got married, I always thought that I would wait at least two or three years before having children. I got pregnant 6 months in. We caved.
I'm sure that many couples have faced the question of, "When are you going to have kids?" quite a few times. I know that our parents, in-laws and grandparents get excited about the idea of having little ones run amok, but please stop asking us to have children. As someone who already has two kids, I still get asked about when I'm having a third. My c-section incision was barely healed when I was asked when I'm going to have another one. Um gee, I don't know, let me be able to pop a squat first?
Please stop asking us to have children.
The cycle of questions never ends and it probably never will. I have come up with five things to say to people who constantly ask when I'm going to have more kids.
1. Will you be raising my child for me?
Raising kids is hard! Keeping them from running into the street is one thing, but teaching them to be decent human beings in this messed up world is a lot harder. I just pray to God everyday that my kids grow up to be kind and thoughtful adults. It's all about quality not quantity people!
2. My car can't fit another child.
Seriously though, not everyone can afford (or wants) a mini van. Children are expensive. My kids constantly need new clothes and entertainment. My son wants to go to the trampoline park and Target every week (I swear he always asks me)… that stuff adds up!
3. What If I can't have another child?
Did you know that 1 in 6 couples struggles with fertility issues? This question might be too personal or painful for someone who is struggling to get pregnant or who has had complications after a pregnancy. We don't always know what's going on in people's lives. Unless someone is open with their issues, don't barrage them with unwanted questions. Be considerate.
4. Don't you have more important things in your own life to worry about?
I'm sure that these people have more pressing matters in their lives that they need to worry about instead of thinking about the status of my uterus. What goes on inside of me is none of your business.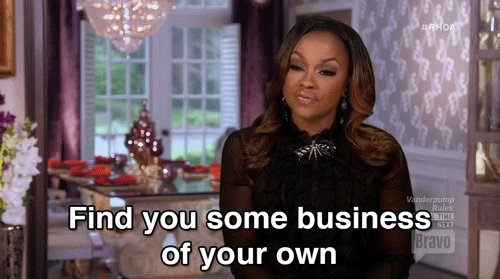 5. I need to keep my sanity.
As moms, we are constantly stressed out and so consumed with everything to do with our kids, amongst other things. Do you want me to go insane? I want to still have a life of my own. I don't want my life to only be about having kids. And please don't tell me to have kids back to back. Kids aren't on my monthly to-do list waiting to get checked off.
Leave a Comment!