While most people wouldn't necessarily label their 29th birthday a "milestone," I'm not most people and I've never really done what most people do, anyway. Today is my 29th birthday – my golden birthday – and I realize that I've spent the last few years not wanting to celebrate the occasion for reasons I can no longer remember. In an effort to make up for that, I decided to think of everything that I've been told and learned along the way that brought me to this point in my journey [relatively] unscathed. So, here's my attempt to pay it forward by sharing with others who could benefit from them.
Become attuned to the needs of your mind, body, heart, and soul. Doing so will play a major role in finding out how to remedy ailments that may plague you and disrupt your life. Sometimes even simple laughter can be the cure.
Spend time alone. It's healthy. It's necessary. And truth be told, people are draining – even the good times require you to unwind on your own afterward.

Bubble baths. My high school guidance counselor told me that one day I will truly come to understand why these two words meant so much to her. I do now.

Read. To learn. To grow. To open and stimulate your mind. To disengage from your world and learn about other parts of the world. Read because there is more to gain than from mindlessly scrolling through feeds of the lives of people you will never actually know from those pictures alone anyway.
Live, genuinely, in the moment you are in.
Spend time with children: they remind you of everything pure and good in life. They're also hilarious, self-assured, and expressive beyond measure. We can all learn a thing or two from the way they live life.
When you're stressed, just dance it out.

Don't sugarcoat messages that can be direct and concise otherwise. It takes too much time, effort, and energy to make everything sound sweet and palatable to others and you have bigger things to focus on.
Learn to accept a compliment — I mean genuinely accept it — deep down — by accepting that you are worthy of the praise being given to you. And do it without saying something to diminish yourself in other ways.
Be honest, not cruel.

Not all your choices will make your parents happy.
People (men and women alike) will be intimidated by a woman who knows what she's doing/talking about. It's not your job to appease their discomfort.

Be able to turn guys down without apologizing for it. And while we're at it, be able to put them in their place when the situation calls for it. Decent guys will accept the rejection and move on and the jerks will know that you refuse to participate in their nonsense.

Age truly is but a number. Some days, I feel old and wise. Others, I feel wild and wacky. And on the best days, I'm all of the above and then some. Because we're not one-dimensional people. We're complex and unique and we definitely do not have to fit into one category.
Stand by AND up for your siblings. When everything and everyone else fades away, if you're lucky, your siblings are the people who are there before and after. Don't give them up or sell them out for anyone.

Always stand up for what you believe in. Period.
Choose your battles wisely. You have to fight them all the way through to the end and they have a tendency to be quite exhausting.
A good cup of coffee in the morning might be the only preparation you have for whatever chaos the day may hold. Take that extra moment to enjoy it.

Loyalty to others is admirable and necessary in relationships. But in some situations, you must choose yourself over others—even your spouse, children, or parents.
Take a mental health day BEFORE you need it. You are not superhuman. Nor do you have to be. We all need to recharge every so often.
Cut out negativity whenever it imposes on your life too deeply or for too long.

Acts of self-love don't have to be grand nor do they have to be publicized. After all, it's a gift from you to yourself. No one else needs to be invited to that party.
Being classy will always be in style. It might be fashionable to engage in questionable or controversial behavior in some situations or depending on your crowd at the time, but doing what you will never have to hide or hang your head down in front of your future children from is always the timeless choice.
Treat. Yo. Self!

Have as many friends as you want, but be selective about who you let in. Some people will only be surface level friends. And that's okay. Not everyone has to know your deepest darkest secrets to be considered a good friend.
Speaking of good friends — if their existence in your life uplifts, motivates, supports, and encourages you, then you'll never have to question their place in it.
There will be days where you don't feel like you have it in you to keep going. That's OK. Take it easy on yourself that day. And pick up where you left off on the grind the next day.
Ask for help when you need it. There are few qualities worse in a person than a lack of humility. Be willing to seek support when you can't carry the load on your own.

Know the value of the work you do and don't sell yourself short. Don't allow coworkers or superiors to undermine your efforts or accomplishments in the workplace. Being proud of yourself isn't boastful or arrogant, it's your right and you should be able to express it!


And, of course, one for good luck:

You don't owe anyone an explanation for the choices you make as long as they sit well with you at the end of the day.

All I can really say for certain is that no one knows what the hell they're doing, so do what you feel is best for you and take other people's advice with a grain of salt. They're not the ones who have to live with the fallout of your decisions for the rest of their lives.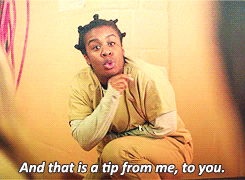 Leave a Comment!