I'm working on another reactionary piece to the Charlottesville rally, but until I can tone down the amount of "fuck you Nazis" I currently have in there it's unpublishable at the moment because #WereClassierThanThat. In the meantime, I've been reading articles and social media posts by the morons who attended these rallies and I just really can't wrap my head around the fact that some of them are claiming not to be the racists and bigots that "the media" is making them out to be. Dudes like Richard Spencer are even claiming that they're not racists by going onto TV shows to prove so, except that they're failing – miserably. So since it's so confusing (it's really not) and since it's the easiest thing for me to tackle right now (how do you remind people that being a Nazi is not OK???) I thought I'd help y'all out and make a quick checklist to make sure you never get mistaken for the horrible person that you probably actually are.
Here are 10 things not to do to make sure you're not mistaken for a racist asshole…
1. Don't go to a fucking Nazi rally.
I guess I'm just gonna go with the F bombs after all. This should really be common sense for anyone who passed or at least was awake through US history classes sophomore and junior years of high school. There were literally two years of courses that emphasized on the importance of never letting another man like Hitler come to power again and the effects that hate has on people all over the world. Had you told me when I was 17 and in these high school courses that Nazis would resurface in my lifetime I'd have laughed in your face.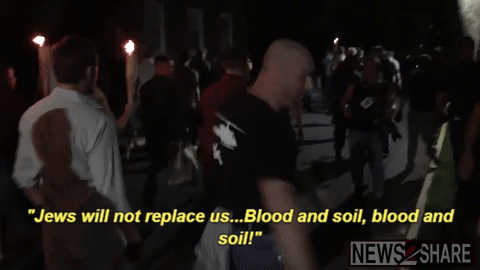 FYI: "Blood and soil" was a term coined by the Nazis ('Blut und Boden'). The ideology stressed that ethnic identity is based only on blood descent and the territory in which an individual lives.
2. Don't go to a rally that is organized, supported and run by Nazis, Confederates, KKK members and White Supremacists*.
*While angrily marching around with Tiki Torches because nothing screams "White Power" like a Polynesian torch that your mom probably had on your patio to keep the mosquitoes away.
Again, common sense. Nazis were/are notorious for *violently* hating non Christians and non straight non whites. This includes but is not limited to Jews, Muslims, Blacks, and anyone who's gay of any skin color or religion. Confederates, literally fought a violent war with their own countrymen because they wanted to keep slavery around. That should be enough for you to understand that even just being in the presence of confederates is a no-no. KKK members are pieces of shit. See HERE. And white supremacists believe basically all that the previous three fight for, they're just a little douchier. Think: White boys in "my dad will sue you" outfits. FYI: That white flag with the black X is the new Neo-Confederate flag. Because one shitty flag wasn't enough.
3. Don't do the Nazi salute.
Ever.
Literally never.
4. Don't worship Confederate soldiers.
'Cause they fought for awful things. #LongLiveTheNorth.
5. Don't give speeches on the importance of taking your country back because it belongs to white Christians.
America actually belongs to the roughly 6 million Natives left on this land. You did not "find" this land (the Natives were here first). You did not "build" this country (slaves did). Therefore it is not yours.
6. Don't call yourself the "Alt-Right".
This is a nice, cushiony term for racist, bigot, Nazi, KKK supporter (or member), white supremacist, fascist, all of the above, etc. In fact, we should all stop using this term they've coined to hide their racism and just call them what they are.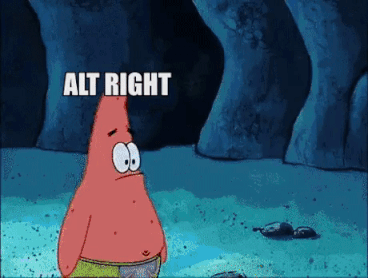 7. Don't actually believe that the color of your skin makes you a more worthy human than someone with more melanin than you.
This is just stupid. Seriously.
8. Don't use your right to free speech as an excuse to say racist things.
Your "right" to say something doesn't protect you from the deserved title of racist.
9. Don't preface things with, "I'm not racist but…"
You can't actually believe this proves you're not a racist… can you?
10. Don't be silent in the face of injustice.
Silence is a sign of complicity. Now is not the time to be silent. Do something.
Stay informed and don't fall for fake news (so basically listen to nothing that comes out of the president's – or his administrations – mouth[s]).
Join a counter-protest but BE CAREFUL.

Planned events to be outside Google offices in Boston (Massachusetts), Mountain View (California), Los Angeles (California), Boulder (Colorado), New York City, Washington D.C., Austin (Texas), Atlanta (Georgia), Pittsburgh (Pennsylvania), and Kirkland (Washington)

Call your representatives and get them to "cancel" this shit.
Donate to organizations like the ACLU (monthly).
Never lose your voice.

Spread knowledge. Spread truth. Spread peace and love. Never tolerate hate.
It's really just that simple.
---
Feature image of 20-year-old, racist, Peter Cvjetanovic – who probably shouldn't have gone to that rally if he didn't want people to think he was an "angry racist".
Leave a Comment!